Fast Set Epoxy Floor Patch/Resurfacer
Fast Rock 143 - Fast Set Epoxy Floor Patch
SETS TRAFFIC READY IN 2 HOURS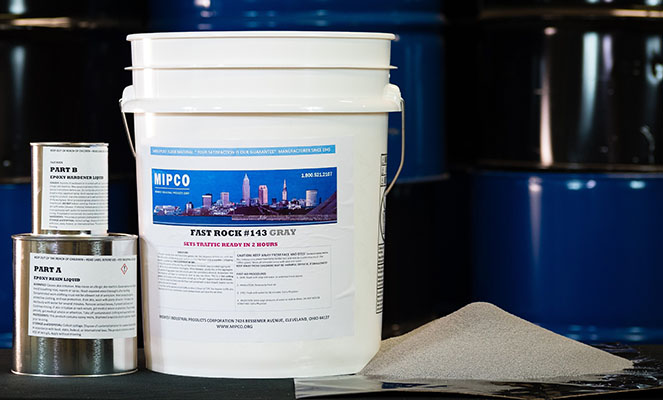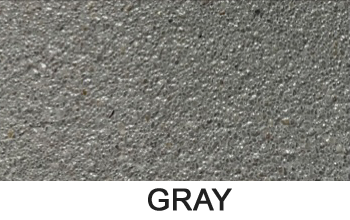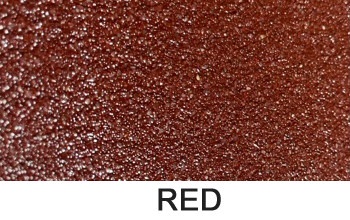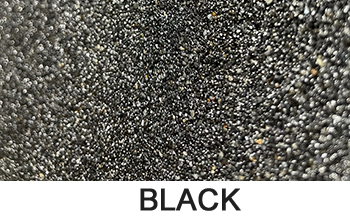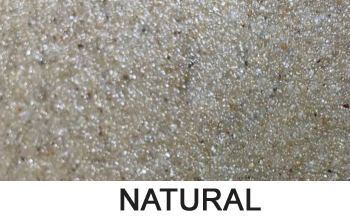 Fast Rock is a fast-setting epoxy floor patch and resurfacer that combines high strength 100% solid epoxy resins and super tough aggregates to form an exceptionally strong and fast setting epoxy floor patch that sets in 2 hours!
Fast Rock bonds like glue to most prepared surfaces and can be used to patch holes and expansion joints to common factory floors. With Fast Rock your production down time will minimal because it sets fast! Our fast-drying epoxy floor patch and resurfacer can be opened up to normal traffic in 2 hours.
Use: Patch holes in concrete floors subject to heavy lift truck traffic when down-time has to be minimal.
Procedure: Mix the resin. Hardener & aggregate and trowel onto the properly prepared floor.
SET TIME: Pot life is 15 minutes. 2 hours @ 70°F for normal traffic
Colors: Gray, Red, Black, and Natural Tan.
PACKAGING: Each unit is packaged in a 5 gallon pail containing pre-measured amounts of resin, hardener and aggregate.
COVERAGE: Each unit will cover 30 sq ft. @ 1/8"
SDS sheets are current as of April 6, 2021.
Fast Setting Floor Patch for::
Aisles
Loading Docks
Parking Garages
Runways
---
What Makes Fast Rock Stand Out?
Fast drying epoxy floor repair and resurfacer
100% solids epoxy formula
Sets in 2 hours – Ready for normal traffic!
Minimalize down time for repairs
Zero VOC – Zero HAPS --Environmentally friendly!
Low Odor
Ideal for when downtime has to be minimal
Creates a smooth, attractive, easily-cleaned surface
Holds tight at feather edges
Will hold up to steel wheel traffic and can withstand industrial usage
No Peeling or Cracking Over Time!
Keep your floors up to par with a permanent solution
We will send a FREE SAMPLE to guarantee satisfaction
Competitive pricing guaranteed
Technical Data
| | |
| --- | --- |
| Compressive Strength | 14,000 psi |
| Epoxy Type | Amine |
| Flash Point | 225°F |
| Open to Traffic Set Time | 2 hours @ 70°F |
| Unit Size | 40 lb. unit, 5 gal. pail |
| Coverage | 35 sq. ft. @ 18/" (.33 cubic ft.) |
| Colors | Gray, Red, and Natural |
---
Fast Rock Overview
Application Demo